The cult cinema experts at Arrow Video are set to guarantee film fans a happy new year come January with some spectacular DVD, Blu-ray and Dual Format releases lined up.
Following on from December's Limited Edition release of
Donnie Darko
comes standard edition releases on both DVD and Blu-ray. The DVD release offers the theatrical cut of the mind-bending classic, while the Blu-ray release has both the theatrical
and
director's cuts on board!
January's a great month for fans of Japanese crime cinema too as
Takashi Miike's Black Society Trilogy
arrives on both Blu-ray and DVD. These stylish and gripping crime films put
Miike
on the cinematic map and proved he was more than just a specialist in blood and guts.
But if it's blood and guts you want, you're also in for a treat with
Blood Rage
! This classic 80s horror is a Thanksgiving-set masterpiece of schlock with amazing effects by
Terminator 2: Judgement Day
's
Ed French
. Out the same week is
Bring Me the Head of Alfredo Garcia
, the film that director
Sam Peckinpah
stated as the only film that ended up exactly how he wanted. Arrow Video bring it to Limited Edition Blu-ray.
Last but by no means least in January is the Limited Edition Dual Format release of
Brian De Palma
's
Raising Cain
. The thriller stars
John Lithgow
in no less than three roles - a pair of twins and their father - and he delivers a startling performance as one of them descends into a psychotic rage.
Donnie Darko - on Blu-ray on 9 January 2016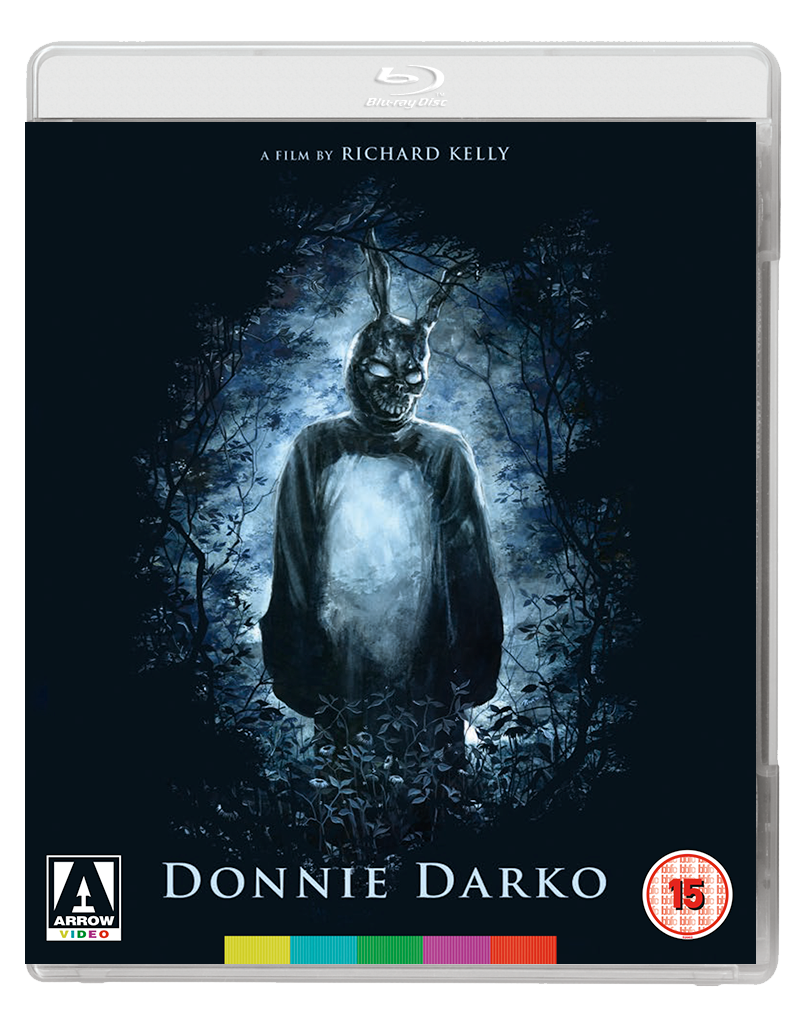 A chance to see this classic cult film as it was intended in this brand new 4K restoration, overseen and approved by director Richard Kelly. With both the director's cut and the theatrical cut, the release also has a wealth of special features to keep fans enthralled.
Donnie Darko (Theatrical Cut) - on DVD on

9 January 2017
Fans of the original theatrical cut of
Donnie Darko
can watch Arrow Video's brand new 4K restoration on DVD along with a fantastic selection of extras.
Takashi Miike's Black Society Trilogy - on DVD and Blu-ray on

16 January 2017
See the films that made Takashi Miike's name as a master of Japanese crime cinema with this exciting set from Arrow Video. Including
Shinjuku Triad Society
,
Rainy Dog
and
Ley Lines
, in beautiful high definition transfers, the set also contains a host of special features including a brand new interview with the director himself.
Blood Rage - on Dual Format Blu-ray + DVD on

23 January 2017
This classic 80s slasher arrives with a 2K restoration of the "hard" home video version of the film that lets you see Ed French's gruesome effects like never before. There's also a wealth of extras to give horror fans a fresh insight into this fun chiller.
Bring Me the Head of Alfredo Garcia - on Limited Edition Blu-ray on 23 January 2016
As close to 'pure Peckinpah' as you'll ever get,
Bring Me the Head of Alfredo Garcia
is possibly the director's greatest work, and certainly his most autobiographical. This brand new and exclusive 4K restoration shows off the film beautifully and offers film fans the chance to explore Peckinpah and his
oeuvre
even further with a glut of extras.
Raising Cain - on Dual Format Blu-ray + DVD on

30 January 2017
Channeling
Psycho
and
Peeping Tom
,
Raising Cain
is a creepy psychological thriller from Brian De Palma and starring John Lithgow in the performance of his career. This Limited Edition Dual Format release is limited to 3,000 copies and features both the theatrical and director's cuts.